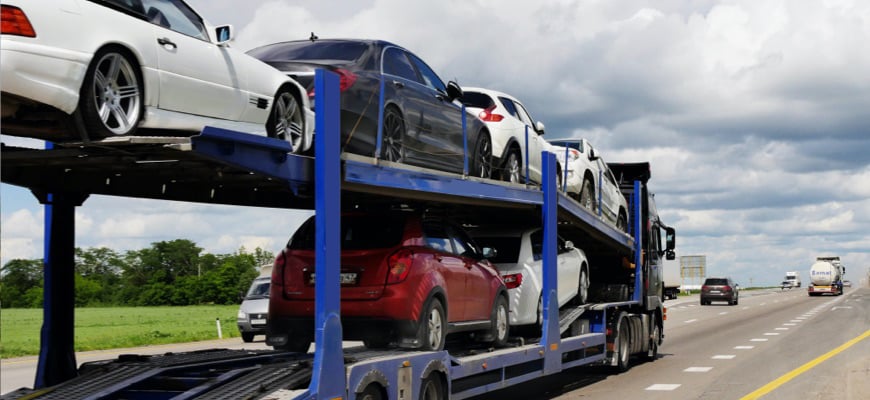 Alabama to Delaware Car Shipping
We know how valuable your vehicle is to you and how much work is required to transfer it from point A to B; that is why Tempus Logix is here to transfer it safely, efficiently, and at reasonable prices.
Tempus Logix is a top-rated vehicle transportation company working with a vast number of carriers. We are licensed in the vehicle shipping industry and bonded with FMCSA and USDOT. All the drivers are certified and have insurance of up to 1 million.
Tempus Logix has many years of experience transferring military cars, heavy equipment, motorcycles, luxury, and vintage cars. We offer a hybrid auto transport that offers open or enclosed auto transport methods.
Our staff is specially trained to guide you from the beginning to the end. To contact our experts, you can join the live chat on our website or call at +1(818)942-7030.
The calculator tool on our website allows you to calculate the quote for transferring your vehicle within seconds.
If you are a soldier, a loyal customer, or a student, we will provide you with great discounts.
Facts about Delaware.
Delaware is the least populated state in the U.S. (990,334).
Delaware is the second smallest state, with an area of 1,948 square miles.
In 1610 explorer Samuel Argall named the bay and river after Virginia's governor, Lord De La Warr—Delaware.
Pennsylvania borders the state in the north; the Delaware River, the Delaware Bay, New Jersey, and the Atlantic Ocean in the east; and Maryland in the south and west.
Delaware was the first state to sign the U.S. Constitution; that's why the state's nickname is the First State.
Top destinations in Delaware.
Dover is the capital of Delaware. It's best known for the local Air Force base, its Air Mobility Command Museum, and the Dover International Speedway, which hosts several racing events every year.
Near the Pennsylvania and Maryland state lines, you'll find White Clay Creek State Park at the northwestern corner of Delaware.
Located in Wilmington, the Delaware Art Museum's collection focuses on American Art of the 19th through the 21st centuries.
Your satisfaction is our priority.
The states in which we operate