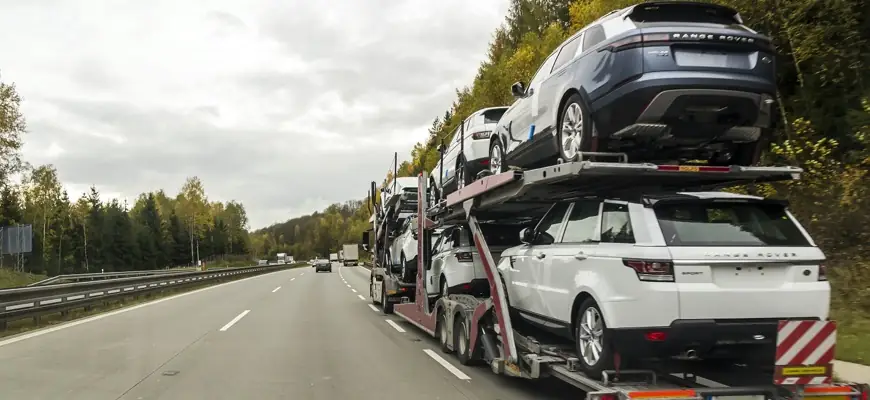 Alabama to South Dakota Car Shipping
Are you thinking about transferring your vehicle from Alabama to South Dakota? You don't need to worry about anything as Tempus Logix is a qualified car shipping company working with a vast network of carriers that will do all the jobs for you. The company is bonded with FMCSA and USDOT and all the shipments are protected by up to 1 million insurance. We have expertise in transferring motorcycles, military cars, boats, luxury, and vintage cars. The company also offers heavy equipment transportation.
Tempus Logix will make sure to transfer your vehicle safely, speedily, and at reasonable prices. Our customers have an option to choose from open or enclosed auto transport methods.
Our professional staff is always available to help throughout the whole process of your vehicle transportation. You can easily connect with our specialists by joining the live chat on our website or calling at +1(818)942-7030.
To know how much it will cost you to transfer your vehicle, you can always use our calculator tool on the website to calculate the cost within seconds.
We will provide soldiers, students, and returning customers with big deals. Also, we will offer good discounts if you want to transfer two cars at the same time on the same route.
Facts About South Dakota
Below are some engaging facts about South Dakota
The population of South Dakota is 887,770. 
The state covers an area of 77,116 square miles.
North Dakota borders South Dakota in the north, Minnesota, and Iowa in the east, Nebraska in the south, and Wyoming and Montana in the west.
South Dakota's weather is mild with showers in spring, warm temperatures and humidity in summer, cool evenings in fall, and mild to extreme cold in winter.
The territory was named after the Dakota Indian tribe that lived in the region.
Dakota is a Native American Sioux word that means "friendly" or "allies."
Places to Visit
Here are the famous destinations in South Dakota
In Mitchell, South Dakota, you can visit the world's Only Corn Palace.
One of the most famous tourist attractions in the state is Mount Rushmore, which has the faces of George Washington, Abraham Lincoln, Thomas Jefferson, and Theodore Roosevelt sculpted into its surface.
Custer State Park is a famous tourist attraction as it is one of the best states and national parks in South Dakota.
Spearfish Canyon, a beautiful natural area is known for an abundance of pine trees, as well as stunning waterfalls and dramatic cliff walls.
Your satisfaction is our top priority.
The states in which we operate