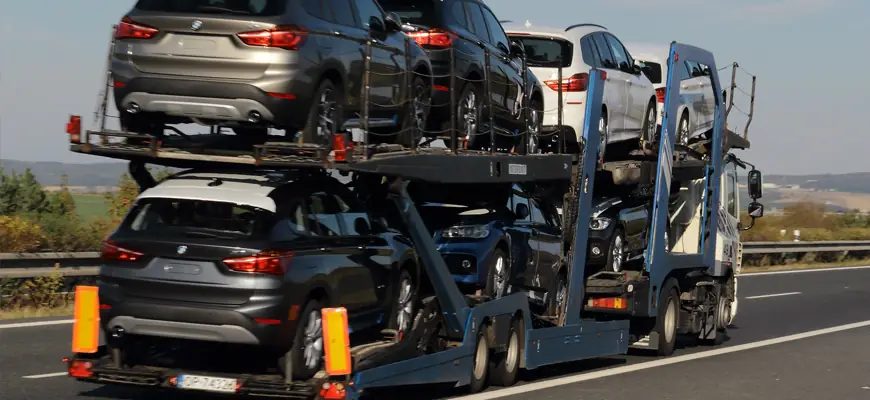 Arizona to Oklahoma Car Shipping
Tempus Logix offers its customers open and enclosed vehicle transportation. The company is certified in the vehicle shipping industry and bonded with FMCSA and USDOT. All the drivers are licensed. The staff of Tempus Logix works with more than 25,000 professional shippers who provide up to $1 million in insurance.
Due to our friendly and dedicated staff, we gain the customers' faith, so that they will surely turn to us again. Our main aim is that all customers are satisfied with the beneficial services we do for them.
You can contact Tempus Logix through live chat on the website or call +1(818)942-7030.
Oklahoma – is a state in the South Central region of the United States.
It borders- Kansas on the north, Texas on the south and west, New Mexico on the west, Colorado on the northwest, Missouri on the northeast, and Arkansas on the east.
Oklahoma is the 20th-most extensive and the 28th-most populated state.
Oklahoma City is the capital and most significant.
The state's name comes from the Choctaw words Okla, 'people' and humma, which translates as 'red.'
The state is nicknamed "The Sooner State."

Mountain ranges
the Ouachita Mountains
the Arbuckle Mountains
the Wichita Mountains
the Ozark Mountains

Waterways

Oklahoma's waterways form more than 500 named creeks and rivers. With 200 lakes created by dams, it has many artificial reservoirs.
Forests cover 24 percent of Oklahoma.

Climate

Oklahoma is in a humid subtropical region.
Much of the state lies in an area known as Tornado Alley, which is characterized by frequent interactions of
cold, dry air from- Canada,
warm, dry, hot air – from Mexico and the southwestern United States,
warm, moist air- from the Gulf of Mexico.
Interactions between these three contrasting air currents cause severe weather (severe thunderstorms, damaging thunderstorm winds, severe hail, and tornadoes) with a frequency virtually unheard of anywhere else. The state averages 62 tornadoes a year, one of the highest in the world.
Highways
An anchor system of Interstate Highways generates transportation in Oklahoma.
Situated along with an integral point in the United States Interstate Network, Oklahoma contains three primary Interstate highways and four auxiliary Interstate Highways. In Oklahoma City, Interstate 35 intersects with Interstate 44 and Interstate 40, forming one of the most critical intersections in the United States highway system.
More than 12,000 miles of roads make up the state's central highway skeleton, including state-operated highways, ten turnpikes, or significant toll roads.
State Symbols
Amphibian-Bullfrog
Bird- Scissor-tailed Flycatcher
Fish-Sand bass
Flower- Oklahoma Rose
Wildflower-Indian Blanket
Grass-Indian Grass
Insect-European honey bee
Mammal-American bison
Reptile -Mountain Boomer
Tree- Redbud
Colors-White and green (vice versa)
Dance-Waltz, Oklahoma Wind
Folk dance-Square dance
Instrument -Drum
Fruit-Strawberry
Vegetable-Watermelon
Monument-Golden Driller
Rock song-"Do You Realize??" by The Flaming Lips
Theater group – Lynn Riggs Players of Oklahoma
Fantastic places to visit
Great Salt Plains State Park- The Park is rich in scenery. It is pretty plain of sparkling salt; all that remains of the once vast prehistoric ocean is why it is called so.
While the endless salt landscapes are impressive, the state park also has plenty of great outdoor activities for visitors to enjoy. In the Park, the lake is suitable for swimming and boating and excellent fishing and bird watching.
It is noteworthy that the Great Salt Plains State Park is the only place on Earth where you can dig up selenite crystals.
Natural Falls State Park- is most known for the beautiful waterfall (75 feet/23 meters).
A basketball and volleyball court is on offer and a scenic hiking trail through the woods.
Chickasaw National Recreation Area- has excellent outdoor activities for visitors to enjoy.
The beautiful waterways, babbling brooks, and rushing rivers are lovely places for fishing, swimming, and boating.
Lawton- is the perfect place to visit if you want to learn more about the history and culture of the Great Plains.
There are informative and interactive exhibitions at the Museum of the Great Plains.
Beavers Bend State Park- is an admirable site with forests, shores, and riverbanks.
Wichita Mountains Wildlife Refuge- 13 artificial lakes and plenty of scenic hiking trails and rock climbing routes are here. If you want to go camping and fishing, it is a splendid place.
The states in which we operate