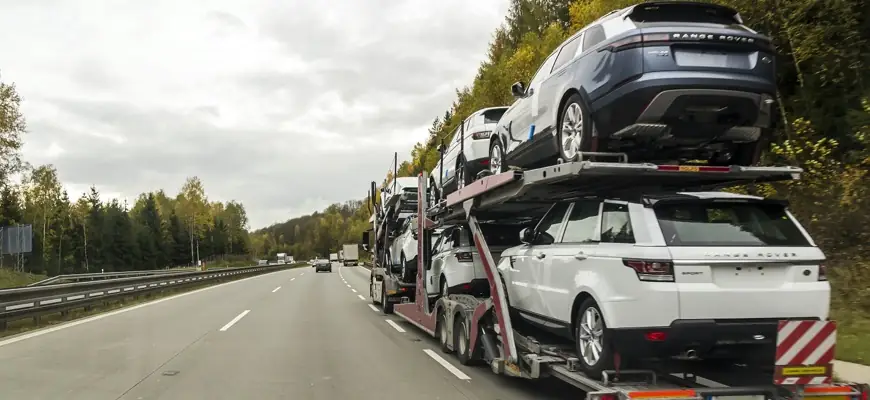 California to South Dakota Car Shipping
Shipping a vehicle from point A to B is often challenging, expensive, and requires time, energy, and experience. You will not worry about any of these if you choose Tempus Logix, a top-rated car shipping company in the U.S. connected with FMCSA and USDOT. The company is significantly experienced in the vehicle shipping industry and has shipped over 30,000 vehicles. So, you can be sure your vehicle will be in good hands; just trust us and don't worry about anything.
We collaborate with a huge network of shippers with up to 1 million insurance, experts in shipping heavy equipment, motorcycles, boats, military, vintage, classic and luxury cars. Operable and inoperable vehicles are transported either with open or enclosed auto transport methods. Our certified drivers will complete the pickup in 1 to 5 business days, but you can also shorten the pickup timeframe by requesting expedited shipping. However, it should be noted that compared to standard shipping, the cost of expedited shipping is higher.
Don't worry in case of additional questions, as our professional customer service will be by your side from the beginning to the end. The easiest way to reach them is by joining the live chat on the website or by calling +1(818)942-7030.
You will only need a few seconds to know your shipping cost. You should find the calculator tool on our website and fill out the small form provided. The shipping prices can change depending on which season you decide to ship your vehicle.
The fantastic news is that all loyal customers, students, and soldiers will receive outstanding discounts from Tempus Logix.
Amazing facts about South Dakota.
South Dakota is a midwestern U.S. state.
The population of the state is 901,165.
The state's total area is 77,116 square miles.
The total distance of driving from California to South Dakota equals 1,628 miles.
Impressive places to visit.
We recommend visiting Dinosaur Park on a ridge encircling the Black Hills. Seven true-to-size replicas of dinosaur reproductions are presented in the park, paying homage to the dinosaurs of the Jurassic and Early Cretaceous eras.
Another unique spot is The Adams Museum, comprising five individual properties that bring the history and spirit of Deadwood to life. It was established in 1930 to preserve and share the unique history of Deadwood, South Dakota.
Your satisfaction is our priority.
The states in which we operate