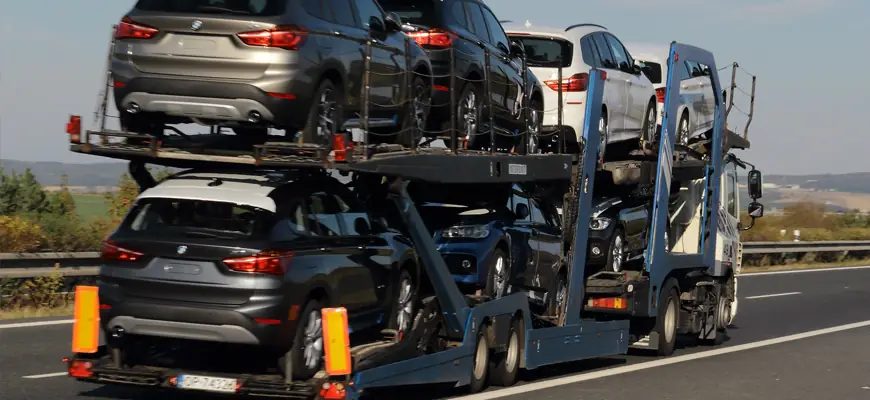 Connecticut to Oklahoma Car Shipping
Do you want to transport your vehicle from Connecticut to Oklahoma, but the workload seems too stressful? Welcome to Tempus Logix, a certified vehicle shipping company that will complete your vehicle transport securely and quickly without any difficulties at affordable prices. We are a licensed brokerage company in the vehicle shipping industry bonded with FMCSA and USDOT.
Tempus Logix works with more than 25,000 carries with up to 1 million insurance. We are proud to have been trusted with shipping more than 30,000 vehicles, including military and classic cars, boats, motorcycles, etc. Our company transports both operable and inoperable vehicles. All the drivers we work with are certified and insured and will deliver your vehicle quickly and safely. The pick-up of the cars takes between 1 to 5 business days, and if you request expedited shipment, your vehicle will be picked up in a shorter timeframe. The cost of the expedited shipment is higher than the one for the usual timeframe. Your vehicle will be in good hands from the beginning to the end.
Moreover, we made it easy to calculate the cost in a few seconds using the calculator tool on our website.
Tempus Logix provides a flexible discount system for returning customers, students, and soldiers.
You can book your shipping online 24/7. In case you have any other questions, you can always contact our experts via live chat, or if it is more convenient for you to communicate through calls, you can call +1(818)942-7030.
Alluring information about Oklahoma.
The name of Oklahoma emanated from the Choctaw words "Okla" and "humma," meaning "red people."
The state shares its border with Kansas, Missouri, Arkansas, Colorado, etc.
In Oklahoma, the longest highway is SH-3.
The population of Oklahoma is 4,000,953.
The area is 69,899 square miles.
Famous places to visit.
We recommend you visit the Science Museum. It is home to numerous alluring exhibits that engage curious visitors of all ages. The museum's main exhibit hall is filled with hands-on activities and interactive exhibits that teach visitors about all aspects of scientific study. You can enjoy various live shows, including a Tesla coil show, the planetarium shows, movies on the dome, and a shadows and lights show.
The following fantastic spot is the University of Oklahoma, located in Norman. It is home to many attractions and has vital sports programs. It was established in 1890 and has since grown into a 3,000-acre campus. You can see many things on campus, including contemporary exhibits, the Sam Noble Oklahoma Museum of Natural History, the Fred Jones Jr Museum of Art, and the Bizzell Memorial Library.
Your satisfaction is our priority.
The states in which we operate