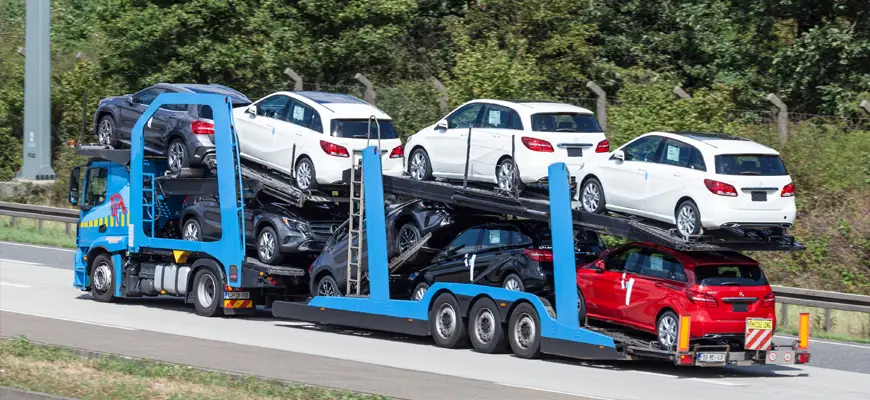 Florida to Ohio Car Shipping
The USA is a country with a vast area, so people in the USA often need to transport their cars, motorcycles, bikes, and vehicles from state to state all over the USA safely. Are you looking for a trustworthy company for your vehicle to be shipped soon? You don't need to waste your time and nerves on searching, as the professional team of Tempus Logix is here to help you send your cars, motorcycles, bikes, and vehicles from Florida to Ohio. You can contact Tempus Logix through live chat on the website or call +1(818)942-7030.
Florida
Florida is located in the southeast and is bordered by Alabama, Georgia, the Bahamas, the Atlantic Ocean, and the Straits of Florida and Cuba to the south.
Florida (65,758 square miles) ranks 22nd in the area among the 50 states.
With a population of over 21 million; it is third-most populous.
The state capital is Tallahassee.
The most populous city is Jacksonville.
The Miami metropolitan area(almost 6.2 million) is Florida's most populous urban area.
Florida has 22 Metropolitan Statistical Areas (MSAs).
The official name for a city, town, or village in Florida is "municipality," There is no legal distinction between cities, villages, and towns in Florida.
Florida is a highly urbanized state: in 2000, 89 percent of the population lived in urban areas.
The highway system contains 1,495 mi (2,406 km) of interstate highway and 10,601 mi (17,061 km) of non-interstate roadways, such as state highways and U.S. Highways.
Florida's primary interstate routes include:
· I-4, (133 miles), connecting Tampa, Lakeland, Orlando, and Daytona Beach, connecting with I-75 in Tampa and I-95 in Daytona Beach.
· I-10 ( 362 miles ), connecting Pensacola, Tallahassee, Lake City, and Jacksonville, interchanges with I-75 in Lake City and I-95 in Jacksonville; and the southernmost east-west Interstate in the United States, terminating in Santa Monica( total length of 2460 miles).
· I-75 ( 470 miles), enters the state near Lake City (45 miles (72 km) west of Jacksonville); and south through Gainesville, Ocala, Tampa's eastern suburbs, Bradenton, Sarasota, Fort Myers, and Naples, crossing the "Alligator Alley" as a toll road to Fort Lauderdale having interchanges with I-10 in Lake City and I-4 in Tampa. It is the second-longest north-south Interstate with a total length of 1786 miles and terminates at the Canadian border at Sault Ste. Marie, Michigan.
· I-95 (382 miles), enters the state near Jacksonville. I-95 has interchanges with I-10 in Jacksonville and I-4 in Daytona Beach. There are four utility routes associated with the Interstate. It is the longest north-south interstate highway with 1,924 miles and ends at the Canadian border northeast of Houlton, Maine.
Some interesting information about the state of Ohio
Ohio is located in the Midwest of the USA.
This is the 34th place in terms of area; the population is almost 11.8 million people.
Ohio is the U.S.'s seventh most populous state and the tenth most densely populated state.
Lake Erie borders it in the north, Pennsylvania in the east, West Virginia in the southeast, Kentucky in the southwest, Indiana to the west, and Michigan to the northwest.
The capital of Ohio is Columbus, while the Columbus metro area, Greater Cincinnati, and Greater Cleveland are the most significant metropolitan areas.
Ohio is historically known as the "Chestnut State" because of the chestnut trees that grow in Ohio, and the people of Ohio are also called "chestnut trees."
Its national flag is the only non-rectangular flag of all U.S. states.
The name of the state is derived from the Ohio River, which in turn is derived from the Seneca word ohiːyo', which means "good river," "great river," or "big stream."
Contributing to what is now the Green Belt, Ohio has also been nicknamed the "Fuel Cell Corridor" due to its growing renewable energy sector.
Features of the Humid Continental Climate of Ohio
Summers are hot and humid, and winters usually range from excellent to cold.
Precipitation in Ohio is moderate all year round.
Severe weather is also not unusual in the state.
Generally, Ohio receives fewer tornado reports than the states located in Tornado Alley.
Ohio has a highly developed network of roads and interstate highways:
Ohio Turnpike I-80/I-90 in the north,
I-76 via Akron to Pennsylvania,
I-70 through Columbus and Dayton and the Appalachian Highway (State Route 32) from West Virginia to Cincinnati.
Major north-south routes include:
I-75 west through Toledo, Dayton, and Cincinnati,
I-71 through the center of the state from Cleveland to Columbus and Cincinnati to Kentucky,
I-77 in the eastern part of the state from Cleveland through Akron, Canton, New Philadelphia, and Marietta south to West Virginia.
Many major east-west transportation corridors run through Ohio.
Ohio has four international airports, four commercial and two militaries. There are a total of 8 airports in Ohio offering year-round commercial flights. In addition, the rest serve only domestic and regional flights.
The states in which we operate