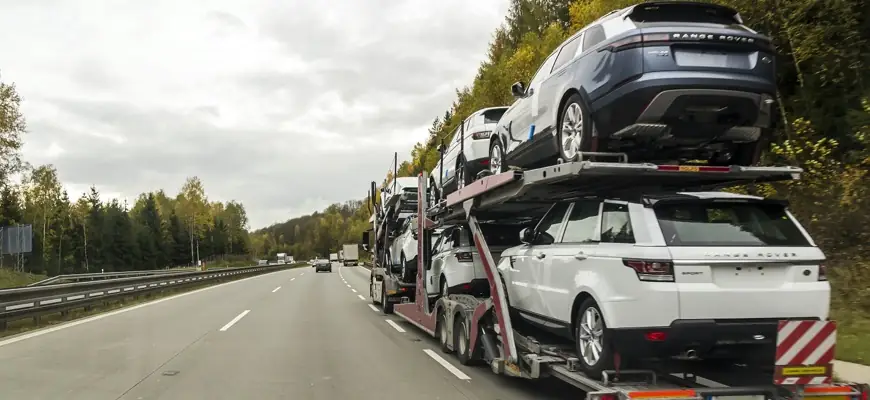 Idaho to South Dakota Car Shipping
If you are thinking about transporting your vehicle from one state to another, Tempus Logix is the best choice. The company is a certified car shipping company in the U.S. and bonded with FMCSA and USDOT. We will transfer your vehicle to South Dakota safely, quickly, and at the same time at reasonable prices.
Tempus Logix collaborates with a huge network of carriers with up to 1 million insurance. We have many years of experience in heavy equipment transport, motorcycle shipping, military car shipping, and classic and luxury car transport. The company also provides boat/yacht shipping services. Tempus Logix transports both operable and inoperable vehicles, and we will pick up your vehicle between 1 to 5 days.
Our customers can ship with open or enclosed car shipping methods.
Our specially trained staff is always ready to support and guide our customers throughout the whole process. You can reach them through live chat provided on the website or call +1(818)942-7030.
You don't have to spend a lot of time to know the quote for your transfer. We provide a calculator tool on our website that will estimate your shipping cost in a few seconds. It is important to note that the price fluctuates due to weather conditions.
All students, soldiers, and loyal customers will receive amazing deals on their transfers.
Facts About South Dakota
Here is some exciting information about our destination.
South Dakota's population is 887,770.
The state's area is 77,116 square miles.
South Dakota is a state in the North Central region of the United States.
The territory that would become South Dakota was added to the United States in 1803 as part of the Louisiana Purchase.
Pierre is the capital city of South Dakota.
Places to Visit
South Dakota offers urban attractions and rugged natural beauty. Below are some entertaining places to visit in the state.
The dramatic landscape of Badlands National Park consists of uniquely formed hills and pinnacles made from the erosion of clay and sand. This beautiful place is one of South Dakota's most visited destinations.
Wind Cave National Park, located just north of Hot Springs, is home to a vast cave system, thought to be among the largest in the world. The cave contains a unique and delicate cave structure known as "box work," which is found in a few other places in the world.
The Old Courthouse Museum in Sioux Falls is a restored 1800s quartzite building with three floors. The interior contains several exciting features, including murals on the walls showing life in an earlier era of South Dakota.
Your satisfaction is our priority.
The states in which we operate