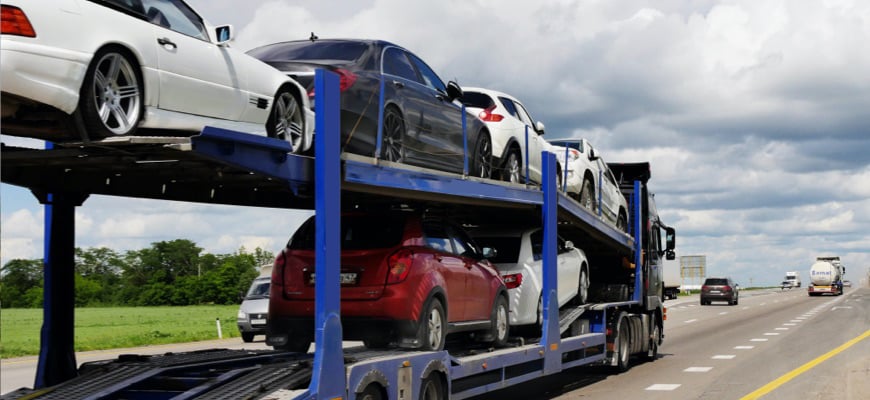 Rhode Island to Delaware Car Shipping
Your vehicle is one of your most significant assets, and it is essential to find a certified and trustworthy company that will transport your car without any problems. We are happy to say that you've found a perfect vehicle shipping company.
Tempus Logix is a top-rated auto shipping company in the US bonded with FMCSA and USDOT.
Here are the advantages offered by Tempus Logix:
Safe and quick vehicle shipping.
We guarantee safe and quick delivery. All the drivers we collaborate with are licensed and will pick up your vehicle within 1 to 5 business days. Our customers can request expedited shipment, and we will pick up the car in a shorter time frame. It should be noted that compared to the usual timeframe, the cost of the expedited shipment is higher.
To precisely estimate your shipping cost in a few seconds, you will only need to use the car shipping cost calculator on the website. There is only one requirement that is to fill out the small form. Please note that the prices are not fixed and can fluctuate depending on the season.
A huge network of shippers.
The company works with more than 25,000 shippers, with over 1 million insurance. We have many years of experience in heavy equipment transport, motorcycle shipping, military car shipping, classic and luxury car transport and boat transportation. We offer vehicle shipping services for operable and inoperable vehicles, and you can choose to ship with open or enclosed auto transport methods.
Professional customer service.
In case of any additional questions, feel free to contact our specialists via live chat on the website. If it is convenient for you to communicate through calls, you can also call at +1(818)942-7030.
We have exciting news for soldiers, students, and returning customers as they will receive fascinating deals on their shipments.
Facts About Delaware
Here is some engaging information about our destination.
The state's population is 990,334.
Delaware's area is 1,948 square miles.
The distance of driving from Rhode Island to Delaware is 326 miles.
The largest city is Wilmington.
Places to Visit
Let's also look at some of the fun places to visit in the state.
Delaware Seashore State Park is a famous and scenic place to visit. It boasts beautiful beaches and great outdoor activities.
Bethany Beach is a small seaside town in the southeast of the state. It is a tranquil and picturesque place. It boasts beautiful beaches, much more relaxed and calmer than other tourist resorts along the coast.
Your satisfaction is our priority.
The states in which we operate