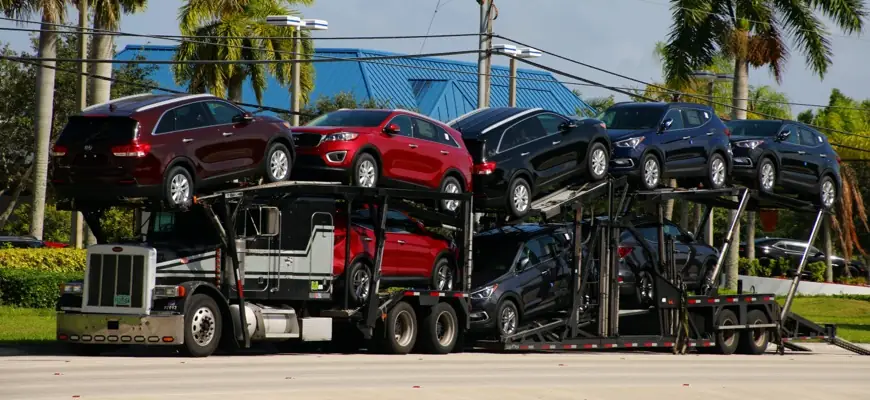 Wyoming to Florida Car Shipping
You will quickly, securely, and easily transfer your vehicle from Wyoming to Florida at fair prices with Tempus Logix.
Tempus Logix is a top-rated car shipping company bonded with FMCSA and USDOT. The company collaborates with more than 25,000 carriers experienced in transporting motorcycles, heavy equipment, military cars, boats, vintage, and luxury cars with open or enclosed auto transport methods. You should not worry if your vehicle is inoperable as Tempus Logix transports both operable and inoperable vehicles. It takes 1 to 5 business days to pick up your car.
Our professional customer service will be by your side throughout the whole process. You can contact them via live chat on the website or call +1(818)942-7030, and they will assist and guide you.
We offer a calculator on the website that will help estimate the quote for your transfer within a few seconds. The tool is easy and quick to use.
Tempus Logix will provide unique discounts to soldiers, loyal customers, and students.
Fascinating facts about Florida.
The area of Florida is 65,758 square miles.
The state's population is 21,944,577.
Florida is a southeastern U.S. state.
The longest interstate highway is I-75, extending 470.678 miles, and the shortest is I-395, extending just 1.292 miles.
It's 2089 miles from Wyoming to Florida.
Popular spots in the state.
A major seaport city in northeastern Florida, Jacksonville is a large, modern city and a regional business epicenter. The nearby barrier island and its beautiful beaches are perfect for swimming, snorkeling, and surfing.
Naples is a popular tourist destination for people attracted to its fantastic white sandy beaches. They stretch on both sides of the famous city icon, the 1888 Naples Pier, a vibrant spot for fishing or watching dolphins. Naples is situated in southwest Florida on the Gulf of Mexico.
Historic Key West has a distinct island feel, with old architecture and a slow pace, located at the southern tip of the continental USA. This scenic and laid-back city is famous for being home to several well-known authors, including Robert Frost, Tennessee Williams, and Ernest Hemingway.
Your satisfaction is our priority.
The states in which we operate